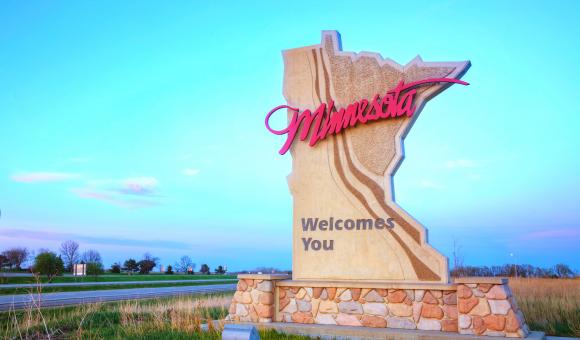 Strengthening the ties with the USA, third economic partner of Wallonia behind France and Germany
The Wallonia Export&Investment Agency (AWEX) and Wallonie-Bruxelles International (WBI) have officially launched a partnership with the state of Minnesota (US) through the Global Wellness Consortium (GWC). An agreement whose purpose is to strengthen the collaboration between the two regions in many particular areas expected to become strategic in the post-Covid world. If you are a Walloon company interested in the project, take note!
What is the GWC?
The Global Wellness Consortium (GWC) is a newly created platform aiming at uniting institutional, economic and academic partners of Minnesota, whose goal is to structure the efforts and initiatives in fields like politics, economy and research in order to allow a lasting reorientation of some of the outlines of development of the American state in its traditional fields of excellence, such as health and food-processing industry, to which we can now add digital technology.
Through this partnership, Wallonia and Minnesota will work together to increase their leadership in those areas by focusing on specific collaboration projects that offer complementary synergies.
An American state looking for transatlantic partners
Minnesota (MN), generally less internationally recognized than its Californian or Texan counterparts, is a well-developed Midwest state whose area is seven times larger than Belgium's, but for a population half the size of ours. Currently, it is one of the richest and most developed American states when it comes to living standards and education. On a commercial and economic basis, many titans have developed there, with international branches including in Belgium and Wallonia particularly in the field of health (with a really powerful MedTech sector, e.g., Medtronic, 3M Company…) and food-processing industry (e.g., Cargill).
Despite this enviable position in the North American territory, many local leaders have decided it was time to consider the necessary evolution of the economy of Minnesota, considering the increase in power of some other American states, which have become potential rivals (Texas, for example, rising star of the country), but also in view of the weaknesses highlighted by the current health crisis in production, transportation and supply of strategic goods systems, a situation other countries in the world are facing.
In other terms, Minnesota is looking for a second (or rather a new) lease on life, which will determine its strategic choices of development and its future orientations in order to reassert its leadership on a national or even international scale in the sectors identified as strategic by its decision-makers.
With this in mind, through free talks between spokespeople from Minnesota and AWEX, this is how the concept of Global Wellness Consortium (GWC) was originally born and it has now evolved into a legal association made up of public, private and academic partners from Minnesota.
Several American multinational corporations from Minnesota are currently based in Wallonia.
What will this partnership with Minnesota consist in?
The considered partnership is expected to cover several aspects of cooperation at different times:
In the short term: it aims at connecting Liege airport (LGG) with Minneapolis-Saint Paul International Airport (MSP) in order to convey cargo flows with high added value (mainly medical equipment) by relying, for instance, on Delta Airlines of which MSP is the second most important hub in the US.
In the medium term: the GWC will be looking to establish a matchmaking between companies and institutions from Minnesota and their counterparts in Wallonia and Wallonia-Brussels Federation, which are ready to commit themselves into innovative commercial projects related to health, food-processing industry and connectivity.
In the long term: the GWC will be a platform of research and innovation, ready to welcome every single region of the world interested in taking part in questions related to the creation of new systems of production and transportation linked with the three sectors aforementioned.
If you are a Walloon company interested in the project, take note!
Due to the impossibility of travelling and organizing meetings and missions both in Belgium and in the US, it is suggested to regularly organize virtual meetings and webinars as soon as concrete collaboration projects will have been identified.
Any company or institution interested in participating actively in the GWC project should get in touch with the AWEX or WBI.
What does the commercial relations between Wallonia and the USA represent?
Did you know that the US is the first commercial partner of Wallonia excluding Europe and the first foreign investor in Wallonia?
In 2019, the US held the third place in the international rankings for clients of Wallonia just behind France and Germany and ahead of the Netherlands and the United Kingdom… that is to say 14.31% of total exports. In 2019, Wallonia exported for an amount of €7.15bn to the USA, mainly products from chemical and pharmaceutical industries (84.7%), machines and mechanical, electrical and electronical equipment (10.4%), base metals and works thereof (1.3%) but also food products, drinks, alcohols and tobacco (1.2%).
In total, these exports have increased by 81.5 % in 2019 in comparison with 2018.
When it comes to imports, the US held the sixth place in the international rankings for suppliers of Wallonia in 2019. Wallonia imported for an amount of €2.57bn of products, mainly products from chemical and pharmaceutical industries (50.2%), machines and mechanical, electrical and electronical equipment (24.5%), optical instruments, precision and watchmaking tools (11.4%) and also transportation equipment (4.7%).
In total, these imports have decreased by 8.7% in 2019 in comparison with 2018.
The US is also the most important foreign investor in Wallonia. We can, for instance, name the historical investment made by Baxter, but also Dow, Google, Johnson&Johnson, Zoetis, Abbott, Abbvie, Twin Disc, PolyOne, FederalMogul, Skechers, CooperVision, Inductotherm, Ampacet, etc. There are thus more or less 180 American companies, from modest SMB to industry titans.
These companies are active in each economic sector and have different functions: production units, logistics centers, European or EMEA GHQ, R&D centers, commercial divisions, services centers, etc.
Between 2000 and 2020, these investments have represented €3.48bn injected in the regional economy and have generated more than 6300 jobs.
At the moment, the teams dedicated to foreign investment within the AWEX are working on several new investment projects in North America, especially in the sectors of life sciences, e-commerce and data centers.
Against the flow of the current tendency surrounding the FEDEX issue at Liege Airport, many expansion projects are underway. For instance, we can name the recent expansions of Google, AveryDennison, Cargill, FederalMogul, Dow, Skechers, PFS Web, Mc Kesson, Emerson and Coopervision.
Note: statistics focus on 2019 because the ones from 2020 are not yet all available. Moreover, the peculiar situation created by the health crisis of Covid-19 will turn 2020 in a less relevant year for the representation of Walloon commercial exchanges in the long term.