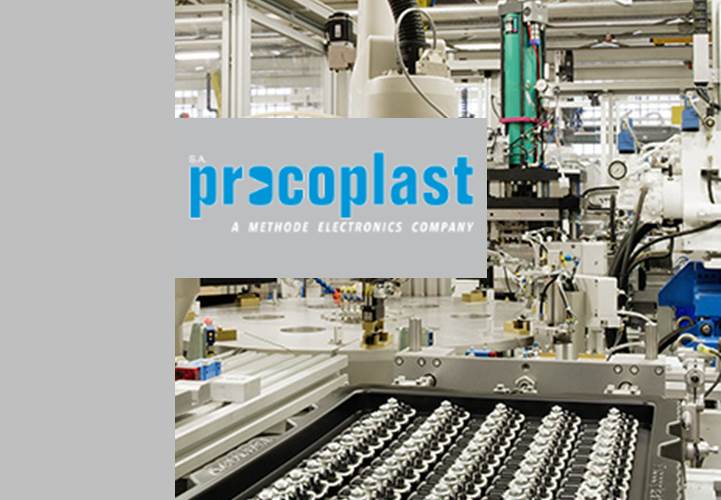 Procoplast, based in Lonzen, near Eupen, manufactures high value-added components for car makers: small injection moulded plastic boxes with electric connections, used in particular by Tier1 (Bosch, TRW, Hella, etc.) to make cars safe and comfortable. After some difficulties in 2008, the company is now going full speed, with increased capabilities and fast growing sales. This year's turnover should reach 30M Euros with a production of 170 million components, of which more than 90% are exported abroad, essentially in Europe. Considering that 16 million new vehicles are produced each year in Europe, that means that on average, 10 parts manufactured by Procoplast will be found under the hood of each new car. It is pretty impressive. 
Since he took the company over in 2005, Geoffroy Boonen, Procoplast's CEO and a current Nominee for the title of "Trends-Tendances Manager of the Year 2017", has focused on transforming a once struggling company into a profitable machine focused on Industry 4.0. In an automotive components industry facing worldwide competition, Mr. Boonen understood that to be successfull, Procoplast had to radically shift its production method. Investments were made towards the manufacturing of highly technical components of unsurpassed quality, produced at competitive prices on fully automated production lines. As a result of this shift, sales have tripled, and the number of employees has doubled to reach 120 currently.
This spectacular recovery did not go unnoticed in the US. Last July Procoplast was acquired by Methode Electronics (NYSE:MEI), a Chicago based multinational employing 7,300 people worldwide. Methode Electronics will make Procoplast in Eupen its Production Center for Mainland Europe. This win-win acquisition also aims at providing Procoplast with a platform to enter the North American market.  
Asked about the revolution process by the magazine Trends-Tendance, Geoffroy Boonen stated that "Procoplast is a beautiful example of a company that has managed to adjust to the technological evolution in order to maintain its activities in Wallonia-Belgium, instead of relocating abroad". He added that "We must stop saying that automation kills jobs. We are still here thanks to automation and we have doubled our staff in 5 years". Asked about Methode Electronics: " I had been trying to give Procoplast a global presence for a long time, and Methode Electronics gave me what I was looking for. An American Industrialist wants to invest and grow in Wallonia, isn't that inspiring?"
And Mr. Boonen to conclude: "Procoplast is a great example of what investing in digitalization and automation makes possible, compared with cheap labor in developing countries. Excelling in Industry 4.0 has been our goal for 10 years".
Inspired by stories like Procoplast, Wallonia has fully embraced Industry 4.0.