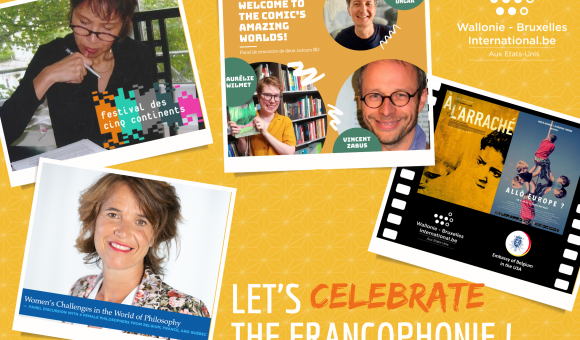 Today we are celebrating the "International day of Francophonie, which highlights the richness of our French language and our culture around the globe.
In celebration of " la journée Internationale de la Francophonie", this year dedicated to resilient women,
Wallonie-Bruxelles International New York
is co-hosting many online events:
● 'Women's Challenges in the World of Philosophy', on March 27 @11 am (EDT), a panel with 4 female philosophers discussing the place of women in philosophy. Wallonia-Brussels will be represented by the philosopher Pascale Seys.
More information: https://frenchculturalcenter.org/.../womens.../...
● Tuyêt-nga Nguyên, finalist of the #Prixdes5continents with her novel "Soie et métal", will be invited during the #Festivaldes5continents on March 22, 24 and 26. This event is co-organized with the Representation of the International Organization of the Francophonie at the United Nations and La Maison Française de NYU.
More information: https://as.nyu.edu/.../programs/5-continents-festival.html
● 'Screening of a Search for Identity', a cinema projection from March 17 to March 24, co-organized with the Embassy of Belgium in the United States of America and the Francophonie Cultural Festival in DC. This event highlights the work of two female filmmakers from Wallonia-Brussels: Emmanuelle Nicot et Sandrine Dryvers.
More information: https://www.eventbrite.com/.../screening-of-a-search-of...
● During 'Comics' Amazing Worlds', we will hear Aurélie Wilmet, a comic book author, in an exclusive discussion panel with Vincent Zabus, animated by Philippe Ungar. This event will take place on March 28 and is co-organized with the Embassy of belgium in the United States.
More information: https://www.eventbrite.com/.../comics-amazing-worlds...
 
#FêteDeLaFrancophonie #OIF #Francophonie
#QuébecGovernmentOfficeinBoston #CulturalCenterofBoston #AllianceFrancaisedeBoston #EmbassyofBelgiumintheUSA #francophonieDC #Francophonie2021 #AFDC #BelgiumintheUSA #WBILettresetLivres #Festivaldes5Continents